About Us
Elcom's
history and the art of handmade furs began almost forty years ago. In 1977, the small artisan laboratory opened in Isola Vicentina. Over the years, through hard study, research and teamwork, a unique and innovative style was born, transforming traditional furs, up to that moment reserved to a small and exclusive niche of customers, in a fascinating world of creativity, modernity and lightness. The style that identifies Elcom has been defined step by step, first in its territory, Italy and its market, and then all over the world.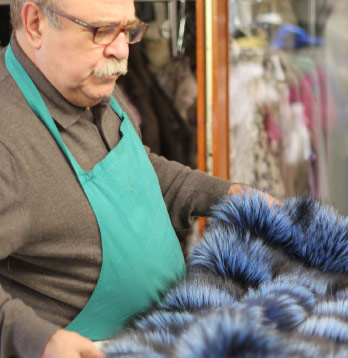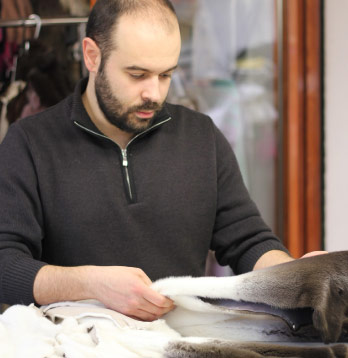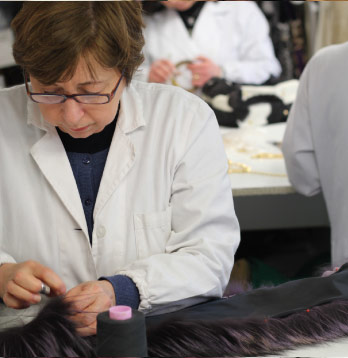 A style characterized by beautiful materials, precious details and modern and practical design, a real wave of innovation and freshness to the traditional furrier technique. In 2005, the turning point arrived with the attendance at the Mifur in Milan, leading trade fair at international level. Haute couture fell in love with Elcom's style and this fact led to a worldwide appreciation for the company. Since then Milan, Paris and the fashion weeks have become very important showcases and Elcom's creations are together with the big fashion brands in luxury stores, bringing the company philosophy around the world.
Handmade furs is strictly an artisanal art
. Our unique and original pieces come to life from professionals minds and hands. Our pieces are designed to be current and functional, as well as precious and exclusive. Models are thought and designed through an integrated teamwork.
Each piece is born here, in our laboratory, starting from an idea, an inspiration, a particular material.
All raw materials are accurately selected at international auctions. The best exemplary of sable, chinchilla, mink, marten and fox together with the attention for the most cool particulars, as the beautiful linings of pure Italian silk and the high quality accessories, create models characterized by a double soul.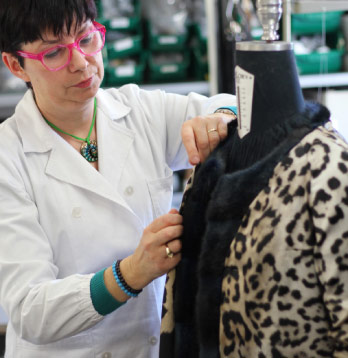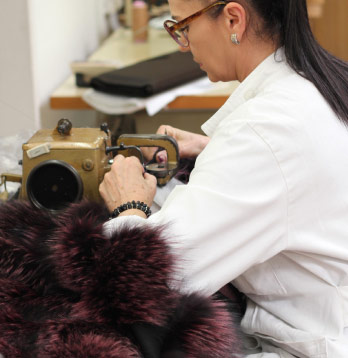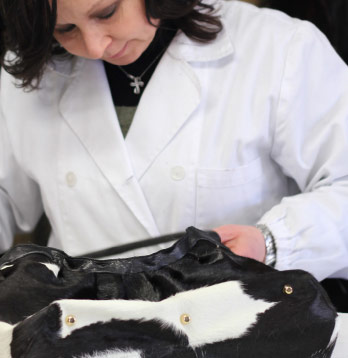 A modern soul, in step with fashion, and a classical timeless one. Thus, we refine the ancient concept of furriery, from status symbol reserved for few to a wider and more flexible concept, where materials preserve the charm of the traditional furriery but acquire the value of a continuous research and of the renewal of ideas always fresh and new. The entire productive process is certified through a holographic certificate of authenticity which accompanies each of our articles. Our creativity does not stop at wear and accessories. From our hands born trendy bags, original accessories and particular furnishing as pouf, carpets and travel bags. Precious objects, unique and original, rigorously Elcom's style.
We are, and we always will be, a family business, strongly linked to our territory and to our being proudly Italian. And we bring our art in the world with proud. We create and product projects of
high furriery for Italian, European and foreign markets
, jealously preserving our nature of artisans that permit us to satisfy important customers, as well as to treat with attention and carefulness private customers with particular and personal needs. Luca deals with the relationship with the foreign market along with professionalism and passion, through a network of agents who work directly in the territory, managing precisely and timely the customers relationships, with particular attention to the trends of the different reference markets. Communication is entrusted to the website, and through it, customers are continuously updated on new collections and inspirations. Finally, the participation to the most important trade fairs consolidates our artisan dimension reality in contact with the world.